Among the members of The PolyU E-Formula Racing Team, "Why this, but not that?" may be the question most frequently raised among members of The PolyU E-Formula Racing Team. Since the establishment of the team in 2015, members have been asking this in workgroups, at meetings, day and night. How collective wisdom led to their first complete autocross run in 2019 is one fascinating story.
In every race season, the racing team has to design, manufacture, test their new formula student car, and be technically and logistically ready to participate in Formula Student Competition.
The team has a steep learning curve and an extremely tight schedule on race car components design, as well as devising solutions for a countless number of problems. Team members hope the design of their racer could be even more creative and innovative. However, innovation and practicality are two parallel lines. Innovative designs may not always be practical. Hence, the sub-teams need to discover the problems then find the cause of them. Members would share all of their thoughts and possible solutions among teammates, senior members and team advisor, discuss together. Eventually, a better idea or design would be reached.
Difficulties? Definitely a lot. Perhaps the most challenging one is to balance academic and racing team workload within the given deadlines.
And more importantly, in such a team with more than 45 members with over 25 international members, the most crucial task is to make sure the connection and communication between its many sub-teams are smooth and effective.
FORMULA STUDENT
Formula SAE (FSAE) and Formula Student China (FSC) are international collegiate design and manufacture competitions about automotive engineering for undergraduate and graduate students. They are often referred to as the cradle of automotive engineers. FSAE/FSC are held globally each year in 5 continents in over 13 countries with over 570 teams worldwide. The competition promotes careers and excellence in engineering design and project management skills as it encompasses all aspects of the automotive industry including research, design, manufacturing, testing, developing, marketing, management, and finances.
---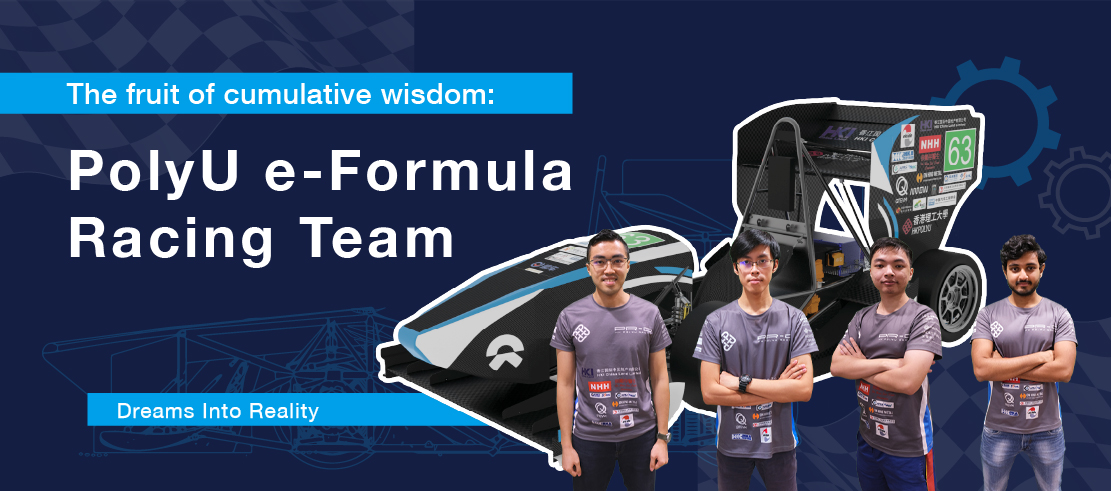 Mr Ng Chun Yin Michael
Vice Captain, PolyU E-Formula Racing Team 2020
BEng (Hons) in Mechanical Engineering
Year 4, 2019-2020
Mr Tam Chun Yiu Brian
Captain, PolyU E-Formula Racing Team 2020
BEng (Hons) in Mechanical Engineering
Year 4, 2019-2020
Mr Loong Cheng Sheng
Vice Captain, PolyU E-Formula Racing Team 2020
BEng (Hons) in Mechanical Engineering
Year 4, 2019-2020
Mr Karan Patel
Deputy Technical Director, PolyU E-Formula Racing Team 2020
BEng (Hons) in Mechanical Engineering
Year 3, 2019-2020