Among the members of The PolyU E-Formula Racing Team, "Why this, but not that?" may be the question most frequently raised among members of The PolyU E-Formula Racing Team. Since the establishment of the team in 2015, members have been asking this in workgroups, at meetings, day and night. How collective wisdom led to their first complete autocross run in 2019 is one fascinating story.
In every race season, the racing team has to design, manufacture, test their new formula student car, and be technically and logistically ready to participate in Formula Student Competition.
The team has a steep learning curve and an extremely tight schedule on race car components design, as well as devising solutions for a countless number of problems. Team members hope the design of their racer could be even more creative and innovative. However, innovation and practicality are two parallel lines. Innovative designs may not always be practical. Hence, the sub-teams need to discover the problems then find the cause of them. Members would share all of their thoughts and possible solutions among teammates, senior members and team advisor, discuss together. Eventually, a better idea or design would be reached.
Difficulties? Definitely a lot. Perhaps the most challenging one is to balance academic and racing team workload within the given deadlines.
And more importantly, in such a team with more than 45 members with over 25 international members, the most crucial task is to make sure the connection and communication between its many sub-teams are smooth and effective.
FORMULA STUDENT
Formula SAE (FSAE) and Formula Student China (FSC) are international collegiate design and manufacture competitions about automotive engineering for undergraduate and graduate students. They are often referred to as the cradle of automotive engineers. FSAE/FSC are held globally each year in 5 continents in over 13 countries with over 570 teams worldwide. The competition promotes careers and excellence in engineering design and project management skills as it encompasses all aspects of the automotive industry including research, design, manufacturing, testing, developing, marketing, management, and finances.
---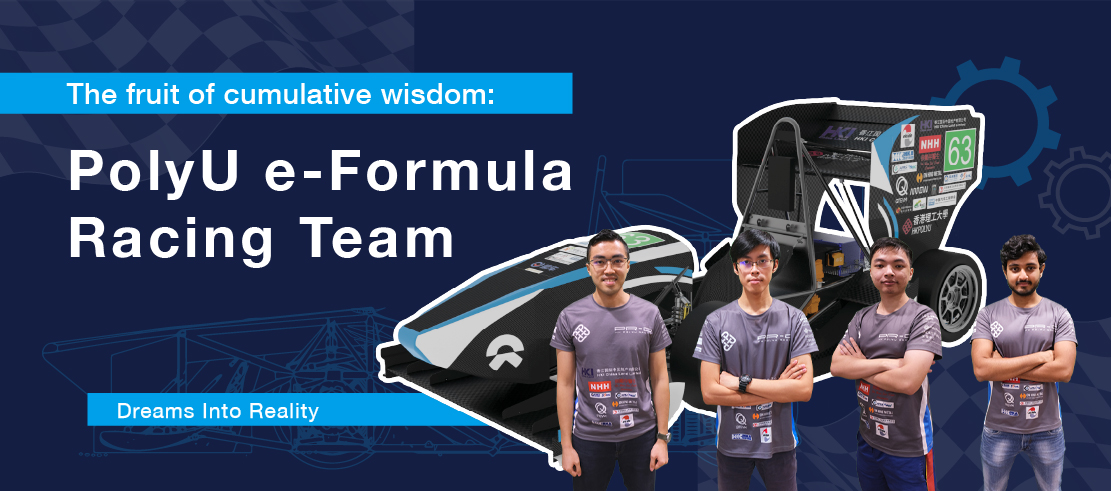 Mr Ng Chun Yin Michael
Vice Captain, PolyU E-Formula Racing Team 2020
BEng (Hons) in Mechanical Engineering
Faculty of Engineering
Mr Tam Chun Yiu Brian
Captain, PolyU E-Formula Racing Team 2020
BEng (Hons) in Mechanical Engineering
Faculty of Engineering
Mr Loong Cheng Sheng
Vice Captain, PolyU E-Formula Racing Team 2020
BEng (Hons) in Mechanical Engineering
Faculty of Engineering
Mr Karan Patel
Deputy Technical Director, PolyU E-Formula Racing Team 2020
BEng (Hons) in Mechanical Engineering
Faculty of Engineering
Domain Expertise:
Automotive Engineering
The team, HKPolyU Racing Team, participates in Formula Student competitions, which are automotive engineering competitions. The team focuses on designing, manufacturing, and testing a Formula Student electric vehicle. They mention various aspects of automotive engineering, such as vehicle performance, design analysis, manufacturing, powertrain, suspension systems, frame construction, aerodynamics, and vehicle control units. Their knowledge and skills in automotive engineering are essential for building a competitive racing car.
Manufacturing Processes and Design Analysis
The team members mention their involvement in manufacturing processes, such as component design, frame construction, suspension system development, and assembly. They also mention conducting design analysis, optimizing performance parameters, balancing suspension characteristics, and ensuring safety factors. Their knowledge of manufacturing processes and design analysis is crucial for creating a functional and safe racing car.
Sponsorship and Financial Management
The team members mention their experience in seeking sponsors, conducting business meetings, and managing financial aspects related to the team's operations. They highlight their skills in communication, negotiation, and financial planning. Their knowledge of sponsorship seeking and financial management demonstrates their understanding of the practical aspects of running a racing team and securing resources for the project.
Lifelong Learning Excellence:
The ability to effectively understand the severity of problems and prioritize them accordingly is crucial in overcoming obstacles faced during the season. Prioritizing tasks and finding solutions to multiple problems arising simultaneously is essential for success.
Managing time and balancing heavy workloads is vital, especially for team captains and leaders. Effective time management allows individuals to handle their academic studies, team duties, and administrative tasks efficiently.
Emphasizing the importance of adapting to failures and learning from them. Mistakes are inevitable, but it is essential to avoid repeating them and instead prepare alternative plans to adapt to unexpected deviations between manufacturing and designing.
Skills in managing and leading a team, including assigning roles and responsibilities, boosting team morale, and monitoring the progress of sub-teams. Team leaders must motivate team members and ensure everyone is working towards a common goal.
The ability to professionally communicate with manufacturers, seek guidance from experts, and collaborate effectively with teammates and staff members. Good communication skills facilitate smoother interactions and productive teamwork.
Emphasizing the importance of planning and conducting thorough research at the beginning of the season. Constructing a milestone plan, conducting technical and managerial research, and seeking advice from alumni members and advisors contribute to knowledge enrichment and project success.
Understanding the importance of setting realistic goals and not getting carried away with excitement. Being realistic with objectives helps maintain focus and ensures that goals can be achieved within the given timeframe.
Encouraging a strong drive and determination within the team. A motivated group of students can produce great results by overcoming challenges and dedicating their time and energy to a project.
Acknowledging the value of knowledge passed down from previous team members. Learning from the mistakes and successes of previous seasons can save time and help new team members catch up quickly. Seeking help and guidance from experienced members fosters continuous improvement.
Highlighting the practical industrial training opportunities available at the university and the benefits of gaining knowledge and experience in relevant industries. Practical experience, such as working with manufacturers or engaging in business meetings, can be advantageous in future career endeavors.
Mentioning personal growth through practical engineering experience, team management, sponsor seeking, and financial management. The racing team experience contributes to becoming a more strategic and efficient individual with comprehensive knowledge in design, manufacturing, and cross-functional skills.
---
Inspiring Quotes:
---
Explore More:
The pursuit of knowledge is a lifelong journey! To further expand your knowledge and continue your personal and professional growth. Click and explore the following learning resources:
Domain Knowledge OER
Manufacturing Processes and Design Analysis
Sponsorship and Financial Management
Lifelong Learning OER
Critical Thinking and Problem-solving
Continuous Improvement and Learning from Mistakes
Project Management and Teamwork
Communication and Presentation Skills
Resourcefulness and Adaptability to New Contexts